I mostly design in collections with one-of-a-kind unique pieces on the side. Some of the collections have been around since the start of my business, some only make a fleeting appearance, some may or may not return (only popular demand will make this happen). Below are some of my current collections; for the old ones you'll need to check ot my archive page.

The Sheffield Dot Collection
The place where it all started. The beginning is two-fold, Sheffield is the inspiration for my first collection and the place I learnt to make jewellery. It's also my adopted home town, so there's a lot of love going on for the Steel City.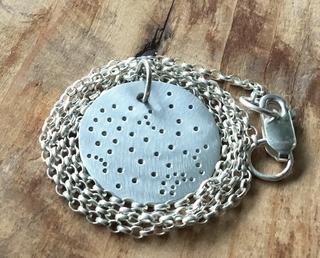 I first created this as a necklace to celebrate an anniversary - 15 years since I lived in halls, went for a few drinks and formed a life long friendship with four fabulous women. Since then it's become a firm favourite with customers, plus it still holds a special place in my heart.
The Sheffield Dot depicts the topographical landscape of Sheffield through dot patterns showing the city, five rivers and seven hills. Each Dot, is individually hand-cut, filed and punched. And made from recycled silver.
Each piece in this range is totally unique! Created by pouring molten silver into water, water cast pieces are organic in shape, ranging from small dots to large cups.
The texture of these pieces is irregular so you get lovely reflections and refractions giving added sparkle to even the smallest pieces.

Back to Basics Collection

This one really keeps it simple, hence the name! Lovely soft, planished finish across hoop earrings, rings and bangles. The texture catches the light really well and makes something simple just that little bit more special.