The place where it all started. The beginning is two-fold, Sheffield is the inspiration for my first collection and the place I learnt to make jewellery. It's also my adopted home town, so there's a lot of love going on for the Steel City.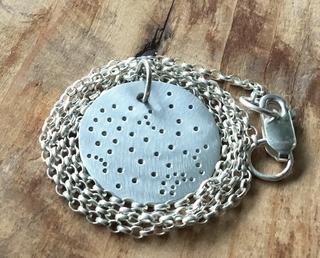 I first created this as a necklace to celebrate an anniversary - 15 years since I lived in halls, went for a few drinks and formed a life long friendship with four fabulous women. Since then it's become a firm favourite with customers, plus it still holds a special place in my heart.
The Sheffield Dot depicts the topographical landscape of Sheffield through dot patterns showing the city, five rivers and seven hills. Each Dot, is individually hand-cut, filed and punched. And made from recycled silver.
I love 1960's brutalist architecture! I know its not for everyone but I think the bold lines, sharp edges and use of concrete create something really stunning.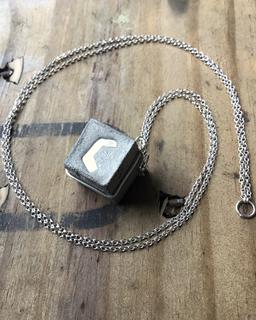 In designing the Streets in the Sky Collection I wanted to play with the idea of combining an everyday material (often over looked or thought of as ugly) like concrete with precious metals. That is why the cube pendants are bound in recycled silver wire and have small silver geometric inserts depicting the aerial view of the blocks of flats at Park Hill.
This collection gives people the chance to wear high quality jewellery with an industrial look. Plus I wanted to work with concrete in a way that was more exciting than fixing a fence-post into the ground.
Don't worry, concrete jewellery is surprisingly light; it's the beauty of the material.
Each piece in this range is totally unique! Created by pouring molten silver into water, water cast pieces are organic in shape, ranging from small dots to large cups.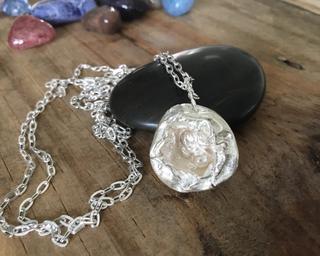 The texture of these pieces is irregular so you get lovely reflections and refractions giving added sparkle to even the smallest pieces.